I am excited to be running for re-election in the upcoming election on June 5, 2018.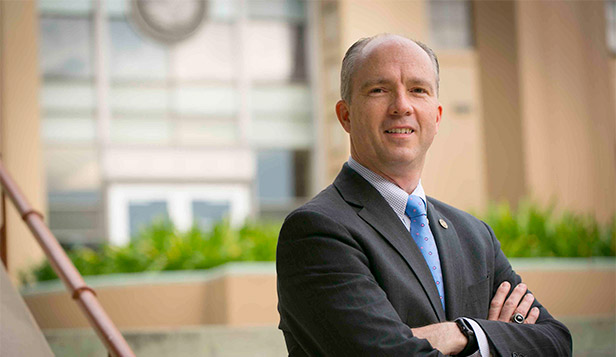 As your District Attorney, I am honored and humbled to serve with an incredibly professional staff of more than 100 public servants who tirelessly work to make our county a safer place.  These women and men are passionate about protecting our community and always maintaining the highest standards of ethics.
Your DA's Office handled over 14,000 criminal cases in 2016 and over 16,000 cases in 2017, within an ever changing and more complex criminal justice system.  We are very tough on serious and violent criminals; yet appropriately compassionate with first-time youthful low-level offenders who are willing to learn from their situation.
I am proud of our many accomplishments over the past three years.
We successfully prosecuted San Luis Obispo County's first two Human Traffickingcases that resulted in life sentences for the perpetrators who victimized and sold a 17-year-old teenager into sexual slavery.
In 2017, the Board of Supervisors approved a new Deputy District Attorney position to be dedicated to prosecuting Gang Crimes and doing Education and Crime Prevention work in our schools and with our youth population.
We have continued the important work of our Veterans Treatment Court with more Veterans successfully graduating.
Together with our local law enforcement agencies, we have created the first of its kind Central Coast Cyber Forensics Laboratoryin partnership with Cal Poly and the California National Guard at Camp San Luis Obispo.
We created a Misdemeanor Diversion Programfor youthful and first-time offenders, giving them a second chance to learn from their experience and protect their otherwise clean record. Approximately ten percent of our misdemeanor cases are diverted away from the court system.
We created a Public Integrity/Anti-Corruption Unit to ensure confidence in local government.
We initiated a process to review every case that is eligible for possible Early Parole and have successfully opposed the early release of those who would create a significant safety risk for our community. Yet, I have also worked closely with Restorative Partners and the local faith and non-profit community to provide mentoring relationships, housing, and other services to former prisoners who are now returning citizens to our community. This is a vital component to our local public safety strategy.
I am excited to be re-elected, as there is much important work that still needs to be done.  Crime is on the rise and our criminal justice system is rapidly changing and becoming more complex.  Many of these recent changes have made our job more difficult.  I am firmly committed to continuing to work hard with our team to hold offenders accountable, assist victims, and make our community safer in an ethical and fair manner that protects the rights of the accused as well as the rights of victims of crime. Thank you for taking the time to visit my website, and please contact me at any time if you have questions.

Dan Dow
Latest News
It is official! With your help we have accomplished our goal and won the election for San Luis Obispo County District Attorney with a significant margin. This was no easy task, but in the end it was clear that our message, our coalition, and our commitment to stay positive and focus on the issues were the keys to victory.